1 Killed In Crash With Tree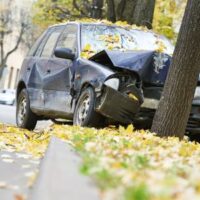 When people drive, it's important that they stay on the road. When they go off the road, they risk hitting objects such as trees, poles, houses, and other vehicles.
One person was recently killed in a crash with a tree. The fatal accident occurred on the evening of February 9 on Richmond Avenue in Houston.
The solo-vehicle crash allegedly occurred after an argument between the driver and passenger, according to statements made by the driver. This caused the driver to lose control, and this led the vehicle to collide with a tree in the 9900 block of Richmond Avenue, near Woodchase Drive.
The passenger, a woman in her 20s, was killed in the crash. The driver, an unidentified man, was taken to a local hospital. The extent of his injuries is unknown, but he is expected to survive. Police are still investigating the cause of the crash.
Arguing While Behind the Wheel
Many people seem to have no problem driving, even while highly emotional. However, when two people are fighting or arguing while one person is driving, it can greatly affect their behavior and abilities.
First, there are the physical aspects. When arguing with someone, the driver may be taking their eyes off the road to look at the person. This can cause them to miss road hazards up ahead.
Plus, there are mental distractions involved. A person who is in a heated argument is in no position to drive safely. They are thinking about the topic of discussion. They are thinking about how they feel about the other person and what was said. They are not focusing on the road, and this is serious, as it can make accidents more likely to occur.
There's also another health consideration. Arguing and anger can cause blood pressure to rise. This can then lead to a heart attack or stroke. A driver who suffers this type of medical issue will likely get into a crash.
In short, when a person is arguing, they are not focused on the road. They can easily go off the road and hit an object, like a tree, which is what happened in this case. Sometimes people are killed due to the impact. Those who survive often suffer from head trauma, back and neck injuries, whiplash, and broken bones. Life-changing injuries are also a possibility. A person may be temporarily disabled and require physical therapy, surgeries, and other treatments.
Contact a Personal Injury Lawyer
Crashes with large objects such as trees are often catastrophic or even deadly, as seen in this case. The impact is so strong that it causes significant damage.
Have you been injured in such a crash? If so, a Houston car accident attorney from The West Law Office, PLLC can help you get compensation for all your damages. To schedule a free consultation, fill out the online form or call 281-347-3247.
Source:
fox26houston.com/news/passenger-dead-crash-tree-richmond-ave-houston