Toddler Killed In Cement Truck Accident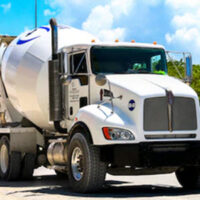 There are a lot of vehicles on Houston's roadways. Every time someone gets in their car, they can possibly be involved in a car accident. In many cases, these crashes are caused by negligence and could have been easily avoided. In some instances, though, they are freak accidents that cause fatalities.
Unfortunately, this was recently the case in Houston. A cement truck lost control and went off an overpass, landing on an SUV below and killing a toddler inside. The fatal accident occurred on August 5 at Woodforest & E Sam Houston Parkway.
The cement truck was traveling on Beltway 8 East when it started raining. The 36-year-old woman driving the truck lost control. The truck crashed through a barrier wall and fell off the overpass. It landed on the back of an SUV.
There were four people inside the SUV: a 54-year-old woman, a 24-year-old woman, and two 22-month-old twins, a boy and a girl. The adults in the vehicle as well as witnesses were able to rescue the girl, but her brother died at the accident scene. The other baby and the two adults suffered minor injuries.
An investigation is still underway. Charges may be filed against the driver at a later date based on evidence.
Cement Truck Accidents
Cement trucks are common around construction sites and other areas. These large trucks can get into accidents just like any other vehicle and cause a significant amount of damage.
Cement trucks are heavy. A concrete truck weighs around 26,000 pounds. Plus, the load it is carrying can weigh an additional 40,000 pounds. Plus, these trucks can be unstable, making rollover crashes common.
Speed and sharp turns can cause cement trucks to roll over. Because of this, cement trucks need to slow down when turning. However, this can be hard if the driver has to make multiple runs and is on a right deadline. If you are near a cement truck, try to get out of its way in the event that it rolls over. Many truck drivers are inexperienced and do not know how to turn properly. They may go too fast or be distracted.
Cement trucks have a high center of gravity. Because they are so top-heavy, they can flip over easily. This is especially true on gravel roads.
Rollover crashes involving cement trucks are more common than you may think. Hundreds of people are killed in these crashes every year. Most of those who are injured or killed are in smaller passenger vehicles.
Contact a Personal Injury Lawyer
Sadly, crashes can happen at any time. A freak accident can injure or kill someone in an instant.
If you have been affected, make sure you get the most compensation possible. A Houston auto accident attorney from The West Law Office, PLLC can guide you through the process. To schedule a free consultation, call 281-347-3247 or fill out the online form.
Source:
kiro7.com/news/trending/toddler-dies-when-cement-truck-crushes-car-after-tumbling-over-houston-overpass/N4RF6OF7S5D73FEZBUDLXZ47KY/