Slip And Fall Cases At Airports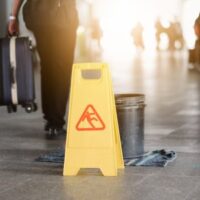 With the United States getting a handle on coronavirus through vaccines and other measures, many areas are opening up. This means that more and more people will be traveling soon. Airports will soon be crowded with people on their way to vacation spots.
With so many people at airports, slip and fall incidents are common. In fact, 30,000 slip and fall cases happen on airport ramps every year. In some cases, the victim is at fault. However, in many slip and fall cases at airports, a third party is to blame.
Slip and fall incidents at airports can be caused by a variety of factors. They include slippery or broken floors, trip hazards, poor lighting, transport accidents, and defective equipment. Spills can also occur due to water or drinks being spilled on the floor.
These incidents can cause a variety of injuries. Head trauma, broken bones, sprains, bruises, and cuts are common. Spinal cord injuries, back and neck injuries, and dislocated joints can also occur after slipping and falling. While many of these injuries heal over time, some are long term and can lead to mobility issues or paralysis.
Who is Liable?
Slip and fall incidents at an airport can be complex, as multiple parties can be held liable. They include airport and airline authorities, trolley drivers, kiosk owners, and other employees. When the incident occurs outside of the airport, premise liability law applies. Because the airport owes customers a duty of care. When a customer is injured and it can be proven that the airport breached its duty, it can be held liable.
But how does one provide a breach of duty? The victim will need to prove that the airport knew about a dangerous condition and did not take appropriate action to eliminate the condition or make it safer. The victim will also need to prove that this dangerous condition led to an accident and that this accident resulted in injuries.
In some cases, the airport may not be fully liable for your slip and fall accident. It's possible that you may have contributed to the incident through some degree of negligence. This is called comparative negligence. Texas is a modified comparative negligence state, which means that you can receive compensation for your accident as long as you were not more than 50% at fault. If you are 51% or more at fault, you receive nothing. If you are 50% or less at fault, your compensation is decreased based on the percentage of fault. If your award amount is $100,000 and you were 25% at fault, you would receive $75,000. 
Contact a Personal Injury Lawyer 
Slip and fall cases can be complex. It is not always easy to determine liability, no matter where the accident occurs.
If you have been injured in a slip and fall incident, make sure you receive sufficient compensation for your injuries. The Houston slip and fall attorneys at the West Law Office, PLLC can help. Their team will fight for your rights to financial recovery. Call 281-347-3247 or fill out the online form for a consultation.
Resource:
bigeasymagazine.com/2021/04/02/who-is-liable-for-my-slip-and-fall-injury-at-an-airport/