Semi Truck Collides, Loses Load Near Downtown Houston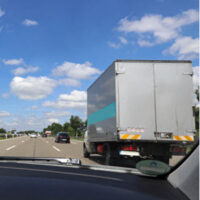 When a semi truck is involved in a crash, many things can happen. Not only can it collide with other vehicles, but it can lose its load, causing the road to be covered in debris. In some cases, the load can contain harmful chemicals.
A recent semi truck crash in Houston caused a major mess on a local freeway. A big rig collided with another vehicle, causing it to jackknife. The accident happened on the evening of January 8 on westbound I-10, near 1-45.
The impact of the accident caused dozens of boxes from the semi truck's trailer to spill onto the busy freeway. Diesel fuel also spilled onto the road, requiring assistance from HAZMAT crews to clean up the mess. It took seven hours to fully clean up the mess. The drivers from both vehicles were injured, but are expected to survive.
Unsecured Truck Loads
While an unsecured load was not the direct cause of this semi truck accident, the accident did cause the load to become unsecure. This can cause a spill all over a freeway or other busy road, causing subsequent accidents.
Semi trucks are often loaded with many materials, such as consumer goods, food, liquids, tractors, equipment, boxes, lumber, hazardous chemicals, and more. Truck drivers and trucking companies must ensure that these materials are properly secured onto the truck and properly balanced. They must also not be overloaded. Otherwise, the load can become unsecured and this can cause a number of issues, such as destabilization of the big rig. The driver can lose control and cause a jackknife accident or rollover, which can lead to cargo spillage.
Unsecured cargo can be caused by:
Wear and tear or defects on chains, ropes, straps, and tie-downs
Unbalanced cargo
Improperly tied-down cargo
Not covering an open cargo area, such as on a dump truck
Unsecured cargo can lead to many dangers. It can cause the truck to swerve or tip over. It can also cause dangers to other drivers by falling off a truck. Vehicles behind or next to the truck may be at risk. They may swerve to avoid getting hit by cargo, only to hit other vehicles on the roadway. When hazardous materials are involved, a spill can be especially dangerous. It can cause environmental damage as well as health issues for those who are nearby.
Contact a Personal Injury Lawyer
Semi truck accidents can lead to a lot of issues, as they often have large, heavy loads. A crash can make a huge mess and take a long time to clean up.
Contact the Houston truck accident lawyers at the West Law Office, PLLC for legal help after a semi truck accident. Our experience in semi truck accidents will help you obtain the financial recovery you need. We know how to help you receive fair compensation for your medical bills, lost wages, pain and suffering, and other damages. To schedule a free consultation, call 281-347-3247 or fill out the online form.
Resource:
khou.com/article/traffic/eastbound-i-10-closed-near-i-45/285-f1221827-0aac-4f2d-a4dd-dad335f87f62