Man Killed In Fiery Crash On Eastex Freeway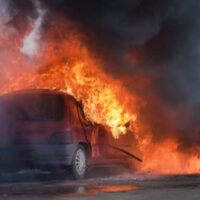 Speeding is never a good idea on Texas' roadways. Speed makes it easier to lose control and get into an auto accident. In Houston, speed and slick roads recently caused a fatality.
On the morning of November 28, a man was driving on the Eastex Freeway when he lost control. He hit a couple objects, causing the car to catch fire. The man was killed in the crash.
The 21-year-old man was driving on I-69, near Rankin Road. He was speeding when he lost control. The roads were slick due to the rain. The vehicle hit an exit sign and a light post.
Witnesses tried to help by breaking the back window of the vehicle, but they could not save the driver. The man died at the accident scene.
Slick Roads and Car Accidents
Car accidents are especially common in the fall and winter, after a rain or snowfall. Rain, ice, and snow can make the roads slippery. This can cause the tires of a vehicle to lose contact with the road. As a result, drivers can lose control and get into an accident.
Sadly, many people die from these accidents, as they usually end up colliding with a pole, tree, road sign, or other heavy object. Rain can also impact visibility and make it harder for drivers to see what is in front of them. They may not brake in time, causing an accident.
Slick roads can cause a lot of damage. Stay safe by following these tips:
Slow down. You don't have to go the posted speed limit when it's raining. In fact, it's better not to. Driving slower in the rain is safer, as it gives you more time to slow down and react to hazards.
Turn on your headlights. When it's raining, keep your headlights on, even during the day. They not only increase your visibility but also allow other motorists to see you better.
Keep extra distance between vehicles. It takes longer to brake in the rain. Therefore, you should stay further behind vehicles to avoid rear-end crashes.
Be careful around standing water. You never know how deep a puddle of water can be. If you are unsure of its depth, don't try to drive through it. Go around it if possible.
Make small movements. Don't slam on the brakes too hard or make quick movements with the steering wheel, as this can cause you to hydroplane. Instead, use the brake lightly and make smaller movements.
Contact a Personal Injury Lawyer
It's important to drive according to weather conditions. When it's raining, roads are slicker, making it easier to get into an accident.
The Houston auto accident attorneys at the West Law Office, PLLC can help you with your car accident case. We can give you customized legal advice and help you obtain compensation for medical bills, lost wages, pain and suffering, and other damages. Fill out the online form or call 281-347-3247 to schedule a free consultation.
Resource:
abc13.com/deadly-crash-eastex-freeway-i-69-fatal-accident/11276930/