Car Crashes Into Coffee Shop During Podcast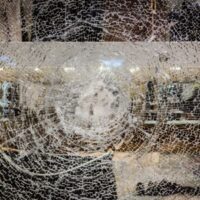 It can be frustrating as well as scary to be working when suddenly you are interrupted by a car crashing behind you. That was what happened when two podcasters were filming an episode at a coffee shop in downtown east Houston. The vehicle slammed into the coffee shop. Fortunately, nobody was injured in the incident.
The incident happened on the afternoon of March 4. The two podcasters, Alexsey Reyes and Nathan Reeves, were filming the fifth episode of their photography podcast, "November Romeo," at Tout Suite, a coffee shop near Commerce and Chartres streets in Houston. Suddenly, an SUV crashed into the window behind them. While the crash caused debris to fly everywhere, the two men walked away with just minor scratches. There were several others inside the coffee shop at the time of the accident, but nobody was injured.
It was an eerie situation for the podcast hosts. It had suddenly become very quiet, just moments before a Chevy Tahoe hit several bollards located in front of a window before crashing through the window right behind them. The bollards likely prevented the SUV from crushing the men.
Reyes said it felt like he went into instant shock. Reeves had some initial scratches with glass, while Reyes later found shards on his arms and hair.
Everything was caught on camera. The SUV ran a red light, causing another car to sideswipe it. The impact caused the SUV to go straight into the coffee shop toward the podcasters.
According to the Houston Police Department, the 38-year-old woman driving the Chevy Tahoe was cited for running a red light. Police say she collided with a Ford Escape and lost control, causing her Tahoe to slam into the coffee shop. Both Reyes and Reeves are grateful to be alive, as the situation could have been a lot worse.
Cars Crashing Into Buildings
Cars crash into buildings more often than you think. It is believed that in the United States, it happens roughly 60 times per day. It seems to happen more and more as people get distracted while behind the wheel and lose control of their vehicles.
Driver is a major error. Cutting off traffic or texting while driving can lead to a crash into a building. Intoxication is also an issue. Being drunk or high can cause a lack of judgment and cause a driver to crash.
In some cases, a vehicle is involved in a traffic accident before losing control and crashing into a building. Medical emergencies and police chases may also be to blame.
Contact a Personal Injury Lawyer
Running a red light is never a safe action. Drivers should always pay attention and obey traffic signals.
A Houston auto accident attorney from The West Law Office, PLLC can help you if you have been hit by a red light runner. Schedule a free consultation with our office today. Call 281-347-3247 or fill out the online form.
Source:
fox26houston.com/news/caught-on-camera-car-crashes-into-houston-coffee-shop-while-podcasters-were-filming