16 Injured In Bus Rollover Crash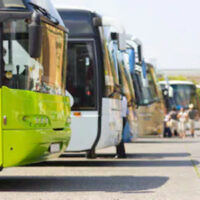 Many Texas students ride the bus to school or sporting events. While buses are considered to be one of the safest forms of transportation, they can still cause injuries to occupants in the event of a crash.
This happened when a charter bus rolled over, injuring 16 people. The incident happened on the evening of April 27 on U.S. 290 in Waller County. The Spartans Post Grad Academy baseball team was on the bus after playing a game in Austin when it suddenly rolled over. The cause is unknown. No other vehicles were involved.
There were more than 20 people on the bus. Sixteen of them suffered some sort of injury. The driver was taken to a local hospital. Two students were seriously injured and airlifted to Memorial Hermann in Houston. One of those students was trapped and had to be removed by firefighters. Twelve others were hospitalized.
Waller County Sheriff's Office, Waller County Police, Waller County Fire Department, and Waller County EMS all responded to the accident. Parts of U.S. 290 were shut down following the crash. The accident is under investigation.
What Happens in a Bus Rollover Crash?
Rollover crashes are some of the most dangerous accidents. There are several classifications of rollovers: when the bus turns onto its side, when it turns in a ditch, when it rolls over more than a one-half rotation, and when there are two rotations or more.
Rollover crashes are even more dangerous when a bus is involved. That's because seatbelts are not required on buses except in one state: California. Because occupants are not secured, they can be thrown around the interior, like clothes in a dryer. The occupants can hit each other, the walls, the ceiling, and the seats, making injuries more likely to occur.
Riders in seatbelts are not tossed around the bus. They stay securely in place, making injuries less likely to occur. However, people like to argue that using seatbelts traps people. However, seatbelts in California buses are just like the ones in your car. They must meet federal standards so you can easily unclick them, even while upside down.
Students and other bus riders are not worse off being belted. In fact, if the charter bus in this case had seatbelts, the two students may not have suffered serious injuries. Even a lap belt can be a helpful addition to buses in Texas and other states.
Contact a Personal Injury Lawyer
Buses are large vehicles that can be difficult to control. Even though buses have many safety features in place, they can still cause injuries and death to riders.
Drivers have a huge responsibility but negligence is common. If you have been involved in a bus accident, time is of the essence. Seek legal help right away from a Houston bus accident attorney from The West Law Office, PLLC. Schedule a free consultation by filling out the online form or calling 281-347-3247.
Source:
houstonpublicmedia.org/articles/news/2022/04/28/424266/16-injured-in-college-baseball-team-bus-rollover-accident-in-waller-county/