1 Killed In Rear-End Crash On Sam Houston Parkway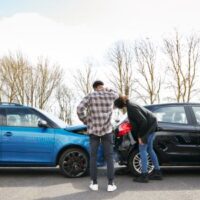 Rear-end crashes are common occurrences. Sometimes they are minor, but there are situations in which they can be deadly.
Sadly, this was recently the case in Houston. A pickup truck slammed into a disabled vehicle, causing the person inside that vehicle to die. The fatal accident occurred on the evening of March 22.
The crash happened when a disabled Nissan was hit by a dually pickup truck on eastbound Sam Houston Parkway, over U.S. 90. The driver of the Nissan died at the accident scene.
It is unknown exactly why the vehicle was stuck in the lane of traffic, but it is believed that the driver of the Nissan may have had a medical emergency. The cause of death is under investigation.
Sudden Medical Emergencies
Unfortunately, the unexpected can happen while behind the wheel. People can pass out or suffer serious medical conditions while driving, causing the vehicle to travel erratically and cause damage, injuries, or death. So what happens in these cases? Who is liable?
Each state has laws that recognize medical emergencies while behind the wheel and how liability is determined. Many states follow one of these defenses:
Act of God defense. This is an inevitable accident that could not have been prevented by human care or foresight. It usually involves severe weather conditions, but can also extend to passing out while driving a vehicle.
Sudden Emergency defense. This involves a medical emergency that the driver did not cause or was aware of before they got behind the wheel. The driver responded as a prudent person would have under such conditions.
Texas follows the Unavoidable Accident Defense or Act of God Defense. Under these defenses, the operator of a motor vehicle who suddenly faints or otherwise loses consciousness while driving and is unable to control the vehicle will not be charged with negligence or gross negligence.
However, this loss of consciousness must be due to an unforeseen cause. For example, if a person suffers a seizure but still decides to drive an hour later and suffers another seizure while behind the wheel, they could be held liable because the seizure was foreseeable. However, if a healthy person with no health issues suddenly has a heart attack while driving, that would be considered unforeseeable and they would therefore not be held liable for any damages that occur in the accident.
Contact a Personal Injury Lawyer
You never know what could happen while behind the wheel. Medical issues can happen in an instant. It can be hard for other drivers to be aware of disabled vehicles and medical emergencies, leading to fatal crashes.
A Houston car accident attorney from The West Law Office, PLLC can help you after a serious crash has affected your life. Count on us to guide you through the process. Call 281-347-3247 or fill out the online form to schedule a free consultation.
Source:
fox26houston.com/news/driver-killed-after-pickup-truck-rear-ends-vehicle-on-sam-houston-parkway-police