1 Killed, 1 Injured In Wrong-Way Crash In Houston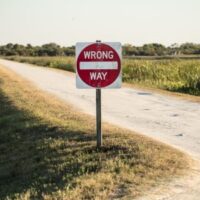 Traffic laws and signals are in place to keep traffic flowing and prevent accidents from occurring. When drivers do not follow the laws and signs, they may actually end up driving in the wrong direction, causing a head-on crash.
This was recently the case in Houston, and the result was the death of an innocent driver. The fatal accident occurred on the evening of October 9 on Highway 249 between Hollister Road and Seton Lake Drive. In total, four vehicles were involved.
A man was driving a Dodge Journey north in the southbound lanes on Highway 249. He collided head-on with a Toyota Matrix. The wrong-way driver did not stop. A Toyota Tundra tried to avoid the wrong-way driver but was also hit. The wrong-way driver kept going and then hit another vehicle, a Honda Accord.
The driver of the Toyota Matrix died at the accident scene. The wrong-way driver suffered serious injuries and was taken to a local hospital. It is not yet known if the driver was intoxicated; toxicology results are pending. The occupants of the other vehicles involved were not injured. It is unknown if any criminal charges will be filed against the wrong-way driver.
Wrong-Way Driving 
Although driving in the wrong direction is not common, when it does happen, it is likely to result in serious injuries and fatalities. That's because this behavior often results in head-on crashes, and due to the high speeds involved, the impact is often very great. If a person survives, they must deal with serious injuries such as broken bones, chest and rib injuries, brain damage, neck and back injuries, amputation, and paralysis. These injuries often require extensive treatment such as surgeries and rehabilitation.
Wrong-way driving is caused by driver error, often when a driver gets onto the freeway via the offramp. Drivers may do this for several reasons including:
Driving under the influence of alcohol or drugs
Distracted drivers
Poorly placed signs and markers
Visibility issues
Drowsy driver
Drivers with health problems
Drivers who are unfamiliar with an area
You can avoid wrong-way drivers by staying to the right of a freeway. Most of these accidents occur close to a median. Also, be alert and try to see as far ahead as possible, especially at night, when a wrong-way accident is most likely to occur. This will give you time to prepare for any motorists traveling in the wrong direction. 
Contact a Personal Injury Lawyer 
Drivers heading in the wrong direction often cause head-on crashes. These types of accidents are often deadly due to the high speeds and impact involved.
If you or a loved one was injured or killed in a wrong-way crash, seek legal help from the Houston auto accident attorneys at The West Law Office, PLLC. We understand the elements involved in a crash and will ensure your case gets the attention it deserves. Schedule a free consultation by calling our office 281-347-3247 or filling out the online form.
Resource:
click2houston.com/news/local/2021/10/10/wrong-way-driver-leads-to-4-vehicle-crash-that-killed-1-person-hcso-says/