Texas Man Receives $4 Million in Construction Accident Case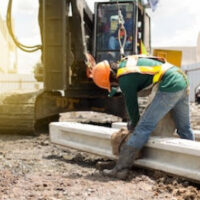 Accidents are known to happen in the workplace, especially in the construction field. A construction accident can happen for a variety of reasons and cause serious injuries.
A Texas man recently won a $4 million award after a workplace accident nearly amputated his foot. The incident happened in 2018 and the lawsuit was finally settled in October 2020.
The 42-year-old man worked as a road and bridge employee for Falls County. In October 2018, he was using machinery for pulverizing and reclaiming asphalt for road repairs when the water system component fell on him. He also lost his left foot in the accident. He had to have surgery to repair his injured foot. The man was then hospitalized for a week and bedridden for two months. He faces more surgeries in the future as he deals with his permanent injuries on a daily basis.
The man's team of lawyers asked the jury to award the man $8 million for his damages. Asphalt Zipper, the manufacturer of the machinery, offered the man just $500,000 to settle outside of court. After a four-day trial in federal court in Waco, the jury sided with the injured employee and awarded him more than $4 million. The man was awarded $75,000 for past physical pain, $1 million for future pain, $125,000 for past medical expenses, $425,000 for future medical expenses, $50,000 for past physical impairment and $925,000 for future physical impairment. He was also awarded $60,000 for past lost earning capacity, $1.34 million for future lost earning capacity, $1,500 for disfigurement and $50,000 for mental anguish.
The award is considered to be one of the largest for a civil suit in Waco. The man was pleased with the verdict, as he has suffered many hardships due to the accident. He has a young son he can no longer do activities with, such as fishing and hunting. He can no longer work as a truck driver.
It was discovered that the water system portion of the apparatus was defective because when being stored, it rests on three legs that are held in place with metal pins. These pins should hold the legs tightly in place. However, the hole for one of the pins was misshapen, which means the pin did not fit properly. That allowed the leg to move, causing it to become unstable and fall on the man.
Contact a Personal Injury Lawyer
A work accident can change one's life forever, as seen in this case. An injured employee may no longer be able to work. This can greatly affect their ability to earn income and pay bills. They may not be able to perform daily functions or care for children.
If you were injured while on the job, get help from the Houston workplace injury lawyers at The West Law Office, PLLC. If your employer fails to provide you with compensation for your injuries, our team can help. Call 281-347-3247 or fill out the online form to schedule a free consultation.
Resource:
wacotrib.com/news/local/falls-county-employee-awarded-4-million-in-asphalt-equipment-accident/article_176619d2-19fe-11eb-bb4d-abcf8458732a.html