Teen In Coma After Rollover Crash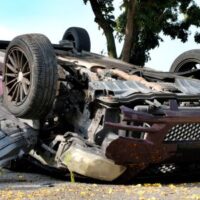 While many teens enjoy the freedom that comes with driving, there are a lot of risks involved. Due to a lack of experience, teens are much more likely to get into car accidents. Many result in catastrophic injuries or death.
A teen was on her way to the homecoming parade at Bridgeland High School when she got into a rollover accident in Cypress. She is currently in a medically induced coma, but the good news is that she is expected to survive.
On the evening of September 12, the 16-year-old was on her way to the school, where she was nominated to be a homecoming princess. She was going to be on a float, so she was in a hurry. She was attempting to take a last-minute exit when the crash happened. Her vehicle rolled over on Grand Parkway, near Bridgeland Creek Parkway. Her car rolled over several times, causing critical injuries.
The teen was airlifted to Texas Medical Center in downtown Houston. Students, coaches, and school staff were in the waiting room sending prayers to the injured girl. She was put in a medically induced coma. While she is expected to survive, she has a long road ahead of her.
Recovery will take a long time. The teen has broken both femurs and patellas. She also has fractures throughout her face and swelling in her brain. It is unknown how long she will be in the hospital. She has undergone orthopedic surgery to repair her legs. More surgeries will be needed in the future.
One of the teen's friends was a passenger in the vehicle at the time of the crash. He is identified as a 17-year-old boy. He was taken to a local hospital with critical injuries.
What to Know About Rollover Crashes 
Rollover accidents are serious crashes. They have a high rate of fatality. Those who survive often suffer from catastrophic injuries.
Common causes of rollover crashes include:
Alcohol and drugs can impair drivers, causing them to suffer lapses in judgment. This can cause them to lose control and roll over their vehicle.
Distracted driving. Distractions can cause drivers to lose focus of the road. This can cause them to veer out of their lane, overcorrect, and roll over.
Going too fast and then swerving can cause a vehicle to roll over.
Aggressive driving. When a driver is experiencing road rage, they may make sudden maneuvers that can lead to a rollover accident. 
Because a vehicle flips over like a ball, occupants can suffer a variety of injuries. Brain injuries, spinal injuries, broken bones, and internal injuries are common.
 Contact a Personal Injury Lawyer
Many car accidents are caused by speed and poor driving maneuvers. Young drivers especially need to focus on the road and slow down.
A Houston auto accident attorney from The West Law Office, PLLC can assist you after a serious car crash. To schedule a free consultation, fill out the online form or call 281-347-3247.
Source:
khou.com/article/news/local/grand-parkway-crash-bridgeland-high-school-homecoming/285-3685cb5d-f8f0-4c58-9d40-77d6e5190888