Pedestrian Killed In Multi-Vehicle Crash In Houston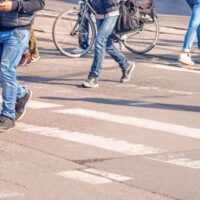 While many people choose to walk from place to place, doing so can be dangerous. Vehicles often fail to stop for pedestrians, especially on busy roads. This often leads to serious pedestrian accidents.
Sadly, this was the case in Houston. On the evening of April 24, five vehicles were involved in a crash, killing a pedestrian. The fatal crash happened on the US-290 Northwest Freeway, at Bingle Road.
Details about the crash are limited. However, a pedestrian was hit by one of the vehicles. They were taken to a local hospital, where they later died.
The accident forced the closure of all eastbound lanes for several hours while law enforcement officials investigated. Traffic backed up for miles and had to detour at Gessner Road, West Little York Road, or Hempstead Road.
Causes of Pedestrian Accidents
Pedestrians can get hit by cars for various reasons, including the following:
Drunk driving can cause a person to suffer impaired judgment and reaction times. They may not be able to stop in time to avoid hitting a pedestrian. But motorists are not the only ones to be intoxicated. Pedestrians are often drunk as well, as this can contribute to a serious accident. They can then be held liable for any injuries they suffer, which will make it more difficult to recover compensation.
Speed is also an issue. If a driver is going too fast, they won't be able to stop in time to avoid hitting a pedestrian. The faster a vehicle is going, the more serious the accident will be.
Both drivers and pedestrians can be distracted, making accidents more likely. Pedestrians need to stay alert, especially when crossing busy roads. They should refrain from looking at their phones and listening to music. They should be able to see and hear traffic before crossing. Drivers should also avoid distractions and be alert in case pedestrians dart out in front of them. They should not be texting or talking on the phone.
Backing up. Drivers need to be alert when going in reverse. There may be pedestrians behind them when backing out of a parking space or driveway. Sadly, many young children have died after being hit by vehicles leaving their driveways. Drivers need to check behind their vehicles before taking off.
Weather conditions. Rain, snow, ice, and fog can reduce visibility and make it difficult for drivers to see pedestrians. These conditions can also make it difficult for drivers to stop in time if they do see someone crossing the road. 
Contact a Personal Injury Lawyer 
Because pedestrians have no protection in the event of an accident, these crashes often result in catastrophic injuries and even death. This is especially true when multiple vehicles are involved.
If you or a loved one has been injured or killed in a pedestrian accident, seek legal help from the Houston pedestrian accident attorneys at The West Law Office, PLLC. We can assess your case and help you obtain compensation for injuries. Schedule a consultation by filling out the online form or calling 281-347-3247.
Resource:
abc13.com/houston-traffic-in-texas-now-i-10-i-45/10544979/