Pedestrian Killed In DUI Crash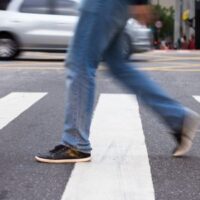 Many people walk the roads of Houston to get from place to place. Maybe they can't afford a car or maybe they just don't want the hassle of one. In any case, almost all Houston residents have been a pedestrian at some point. While walking is a great form of exercise, walking in Houston can be dangerous, especially at night.
A man was killed while walking in Houston. The fatal accident occurred on the evening of July 21 on North Freeway Service Road near Remington Valley Drive.
The man was walking in the middle lane of the service road in the Greater Greenspoint area when he was hit by a Lexus RX 350. The man died at the accident scene.
Deputies responded to reports of the collision around 8:55 p.m. along the northbound North Freeway Service Road near Remington Valley Drive and found the man dead, the Harris County Sheriff's Office said.
The driver of the Lexus remained at the accident scene. He was determined to be intoxicated at the time of the accident. He was arrested for driving under the influence. The crash is under investigation by the Houston Police Department.
Effects of Alcohol on Drivers
Drunk driving is a huge issue in the United States. Drivers are unaware of just how drunk they really are. They often deny that they are impaired and the more they drink, the harder it is to judge just how intoxicated they are.
Just one or two more drinks can make a big difference in a person's driving ability. For example, a blood alcohol concentration (BAC) of 0.02% is two alcoholic drinks. This can affect a person's mood and ability to multitask. They also see a decline in judgment and visual functions.
Three drinks equals a BAC of 0.05%. A driver may have difficulty steering, as well as reduced coordination and reduced ability to track moving objects.
At four drinks, a person reaches 0.08%, which is the legal limit. A driver will have a reduced ability to concentrate, lack of speed control, and short-term memory loss.
Add another drink and you're at 0.10%. By this point, a driver will exhibit slurred speech, reduced braking ability, reduced ability to maintain lane position, and deterioration of reaction time.
After consuming seven drinks, a driver reaches a BAC of 0.15%. This is almost twice the legal limit, causing substantial impairment, loss of balance, and possibly vomiting.
Contact a Personal Injury Lawyer
Drinking and driving don't mix. An intoxicated driver lacks judgment, causing them to drive recklessly. Fatal accidents are likely.
If you or a loved one has been involved in a DUI crash, seek legal help from a Houston drunk driving accident attorney from The West Law Office, PLLC. We understand how devastating these crashes can be. Let us help you get compensation and justice. To schedule a free consultation, call 281-347-3247 or fill out the online form.
Source:
houstonchronicle.com/news/houston-texas/crime/article/HCSO-Pedestrian-walking-in-middle-of-North-Fwy-17322015.php