How Does Bad Weather Cause Accidents?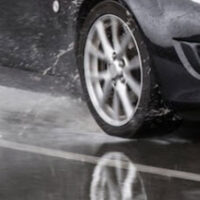 When it's raining or snowing outside, your first thoughts are probably about staying home. Who wants to be traveling in this weather? And for good reason. Car accidents increase in bad weather and it can affect factors such as driver capabilities, vehicle performance, road conditions, traffic flow, and crash risk.
What are the effects of the rain, snow, and ice on the roadways? See how the weather impacts roads and traffic flow, possibly leading to serious accidents.
Rain
Rain happens all the time, especially during the fall and winter months. However, many drivers still have a hard time driving in it. In fact, most accidents happen during rainfall and on wet pavement.
That's because rain affects the roadways, making them more slippery. This affects traction, causing vehicles to hydroplane and even go off the road.
Rain also impacts visibility, with heavy rain making it even harder to see. These factors can slow down traffic speed, increase delays, and increase the risk of car accidents. Therefore, the main impacts are driver behavior and vehicle performance.
However, heavy rain and hurricanes can also lead to flooding. This excessive water can submerge lanes of traffic, causing damage to vehicles and roads. It can also cause drownings and other related fatalities.
Snow/Ice
Super cold conditions can also impact roadways. More than 70% of the United States sees snowy conditions. Ice and snow can impact road conditions and visibility, making car crashes more likely. Eighteen percent of accidents occur during snow or sleet, 16% happen on snowy pavement, and 13% occur on icy pavement.
Snow often causes extensive travel delays. The roadways can be fully obstructed by snow accumulation, making mobility difficult. Some vehicles get stuck in the snow and have to wait for the snow to melt.
Fog
Fog can also cause accidents, as it impacts visibility. This can cause drivers to slow down, since they cannot see very far in front of them. Sudden speed variances can increase travel time and lead to an increase in accidents. However, only 3% of accidents occur in fog.
Wind Speed 
Even the wind can have an effect on the roadways. It can impact visibility, since the wind can blow dust, snow, smoke, and other debris across the road. In extreme cases, this debris can also obstruct lanes, especially when tree branches and other heavy objects are involved. High winds can affect the stability of some vehicles, especially trucks and lighter vehicles.
Contact a Personal Injury Lawyer 
It can't be sunny and dry every day of the year. This means you need to exercise caution when driving in inclement conditions. Slow down, give yourself extra time, and drive safely when the weather's not so great.
Even if you're the safest driver, though, accidents can still happen. The Houston auto accident attorneys at the West Law Office, PLLC. can help you with your car accident case, no matter the cause. We can give you the advice and attention you need. Call 281-347-3247 or fill out the online form to schedule a free consultation.
Resource:
ops.fhwa.dot.gov/weather/q1_roadimpact.htm