3 Killed In Drunk Driving Accident; Driver Charged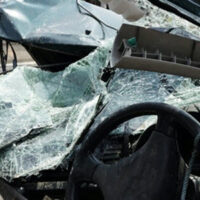 Sometimes it's necessary to pull over onto the shoulder for emergency situations, such as car trouble. Pulling over is supposed to be safe, putting your vehicle out of harm's way. However, moving your car onto the shoulder of a freeway comes with a lot of risks. Many fatalities happen on the shoulders of the roads.
Sadly, this was recently the case in Channelview, outside Houston. Three men were standing outside a vehicle when they were killed by a drunk driver. The fatal accident occurred just after midnight on March 31 along the I-10 East Freeway.
Harris County sheriff's deputies were called to a crash on 16852 East Freeway, near the Magnolia Street exit. Three men were stopped on the shoulder. They exited the vehicle and that was when the driver of a Chevy Tahoe traveling in the same direction hit and killed all three men.
A 24-year-old man was driving the Tahoe. He was determined to be driving while intoxicated and has been charged with three counts of intoxication manslaughter. The man was detained at the accident scene. He was not injured in the crash,
It is unknown why the three men were stopped on the shoulder. They are believed to be in their 20s. The outbound lanes were closed for several hours as law enforcement officials investigated.
Dangers of Road Shoulders
Shoulders are in place to serve as safe spots for drivers to get their vehicles off the road in event of an emergency. However, they tend to be dangerous for various reasons. This is especially true at night, when visibility is limited and drivers tend to be intoxicated. A driver who is not paying attention can easily cause a serious crash. Here are several reasons why road shoulders are dangerous:
When you slow down to pull over onto the shoulder, that is a risk in itself. Drivers who are behind you may not be paying attention. They could possibly rear-end or sideswipe your car.
Roadside debris. Sometimes accidents and injuries are caused by debris on the roadway. Many vehicles are traveling at speeds high enough to cause wind shear, which is when cars traveling along the highway lift small pieces of debris off the road. This debris then comes toward you at high speeds.
Re-entering. After getting onto the shoulder, you then need to re-enter the highway, which is a challenge because you need to get up to speed quickly. This can be difficult if there is a lot of traffic. Plus, it can be hard to judge speeds and distances when so many cars are whipping past you.
Contact a Personal Injury Lawyer
Many people underestimate the effects of drunk driving, but as seen in this case, it can be deadly. This is why it is important to stay sober while behind the wheel.
If you or a loved one's life has been changed by a drunk driver, seek legal help from a Houston drunk driving accident attorney from The West Law Office, PLLC. We can help you understand what evidence is needed for a strong case. Schedule a free consultation today by filling out the online form or calling 281-347-3247.
Source:
abc13.com/three-men-hit-and-killed-on-east-freeway-i-10-deadly-crash-jonathan-lazo-charged-intoxication-manslaughter/13055979/