1 Killed, 1 Injured in Rollover Crash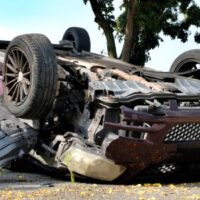 Unfortunately, car accidents are common among high school drivers. These teens have very little driving experience and they often engage in reckless behavior.
A recent car crash in Winnie killed two Houston-area teens and caused serious injuries to another. The fatal accident occurred on the evening of August 12 near the East Bay Bayou.
The Chambers County Sheriff Department took action after receiving several 911 calls about a dangerous vehicle. The vehicle was traveling from the beach on SH 124 through High Island. It then headed west on FM 1985 going at least 100 miles per hour.
Deputies and troopers were dispatched to find the speeding vehicle. That was when it crashed into a large tractor that was hauling farm equipment.
First responders arrived at the crash scene, near the East Bay Bayou, and found the vehicle fully engulfed in fire. Two passengers were killed in the crash. A third person, identified as the driver, was able to exit the vehicle. They were airlifted to a Houston hospital with serious injuries. The driver of the tractor suffered non-life-threatening injuries and was taken to a hospital in Beaumont for treatment.
The next evening, a memorial service was held at Anahuac High School, where the two teens who died were just starting their senior year. All three teens involved were popular football players. The Anahuac ISD said it will have extra counseling services available for students and staff. The crash is still under investigation by the Texas Department of Public Safety.
Speed Kills
For many drivers, going fast can be thrilling. However, the faster you go, the less control you have over your vehicle. You could easily come across a hazard and not be able to stop in time. This type of situation causes drivers to lose control and end up in an adjacent lane. They may hit another vehicle or object or even go off the road.
Speeding may also involve going too fast for current conditions. This often applies in situations where there is bad weather. Rain, snow, and wind can cause dangerous road conditions and make it harder to drive. It is important to slow down in these situations.
It's important to understand that even if speeding does not cause a crash, the added forces caused by speed can make the accident more severe. This means that a car accident at high speeds can easily cause a person to be seriously injured or even killed.
Contact a Personal Injury Lawyer
Speed, combined with a lack of experience, can be a deadly combination for teen drivers. They often do not have the reflexes and experience to react in time to avoid a crash.
A Houston car accident attorney from The West Law Office, PLLC can help you if you have been involved in a crash. We'll guide you through the process and help you focus on recovery. Schedule a free consultation today by calling 281-347-3247 or filling out the online form.
Source:
khou.com/article/news/local/chamber-county-texas-crash-two-killed-near-winnie/285-9f76b04f-4a5d-4caf-bfe6-ce565ec5be6c