Pedestrian Killed In Houston Hit And Run Crash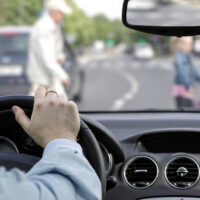 When a person is hit by a car, they have little protection. They often don't stand a chance when it comes to survival, and when the driver flees the accident scene, the outcome is often fatality.
Sadly, this was recently the case in Houston. A woman was hit by a car and the driver fled the scene, with the woman later dying. The fatal accident occurred on the evening of February 25 on FM 1960, near SH 249.
The woman was crossing the street outside of a crosswalk when she was hit by a car. The driver did not stop, fleeing the area without offering medical assistance. The woman died at the accident scene.
The vehicle has not yet been located. It is described as a white Cadillac Escalade with major front-end damage. No information about the license plate is known.
What to Know About Hit and Run Crashes
All states have laws in place that require motorists to stop and remain at the scene of an accident. When a driver does not stop after hitting someone or something, they can be charged with hit and run.
There are various criminal charges that can apply in a hit and run accident, depending on the outcome. For example, damaging a parked car is typically a misdemeanor. When serious injury or death occurs, the charge is elevated to a third-degree felony. The punishment is 2-10 years in a state prison.
Drivers know that fleeing an accident scene is wrong, so why do they do it? There are several main reasons:
Drunk driver. Being under the influence of alcohol can cause a driver to experience a lack of judgment. A drunk driver may not even know they hit someone. And if they did, they may not want to remain at the accident scene for fear of getting caught by police and facing a DUI charge.
No insurance. If a driver has no insurance, they may flee the accident scene to avoid a citation or any criminal charges.
Outstanding warrants. If a driver has an outstanding warrant against them, they may flee the accident scene to avoid any confrontation with police.
Getting into a car crash is a scary incident and as such, many people panic. Fear and stress can cause them to make a bad decision. Their fight or flight reflex may kick in, and their body's response may be flight, or flee the accident scene. They may turn themselves in after the accident gets shown on the news. 
Contact a Personal Injury Lawyer
Pedestrian crashes can be very dangerous, with many resulting in fatality. If you or a loved one has been affected, make sure to get the compensation you deserve.
The Houston pedestrian accident attorneys at The West Law Office, PLLC will work hard to defend your legal rights. To schedule a free consultation with our office, call 281-347-3247 or fill out the online form.
Resource:
khou.com/article/news/local/fatal-pedestrian-crash-fm-1960-sh-249/285-0038241e-aec2-4cf1-a773-1ce4384ba8ce