Man Killed In Rear-End Crash On Highway 90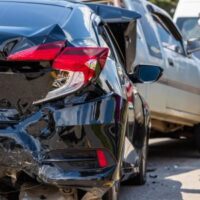 Car trouble is something nobody ever wants to experience while driving, especially on a busy highway. Breaking down on a road where vehicles are traveling at speeds exceeding 65 miles per hour is a scary situation. It's also a recipe for fatality.
Sadly, this was recently the case for a man in Houston. The 23-year-old man was driving on Highway 90, near Hillcroft, when his vehicle stalled. The fatal accident occurred on the evening of March 22.
The man was just 10 minutes away from home when he started having car trouble on the busy Houston highway. His Nissan was disabled in the far right lane. He recorded a video on his phone showing smoke coming from the hood of the car. His hazard lights were also on.
The man called his mom, girlfriend, and roadside assistance. Unfortunately, nobody could get to him in time. His vehicle was rear-ended by a dually pickup truck and he died at the accident scene.
The driver remained at the accident scene and took a field sobriety test. It's possible that the other driver suffered a medical issue. The driver does not face criminal charges at this time. However, the Houston Police Department is still investigating the circumstances surrounding the crash.
What to Do After a Breakdown
Unfortunately, it's common for car problems to lead to fatal accidents. Each situation is different, but it's important to react appropriately. The best thing for drivers to do is to put as much distance as they can between themselves and other vehicles. They should drive their vehicle as far off the road as possible, out of traffic. This may mean going to the far right side of the shoulder.
Once you have driven your vehicle off the road, try to note your location, as this will help road assistance and police find you better. Look for signs, such as  a mile marker, a major intersection, or an exit. The next steps are to turn on your hazard signals and call for help.
Visibility is often an issue in breakdown-related accidents, so do what you can to make yourself more visible. Prop up your hood. Use triangles and flares, if you have them. Reflective clothing and flashlights may be helpful as well.
It's best not to exit your vehicles. Experts say stay inside your vehicle and leave your seat belt on. This will be your next chance of surviving an accident.
Contact a Personal Injury Lawyer
Car trouble is a common cause of accidents. When vehicles unexpectedly break down, other drivers often cannot react in time, causing serious or even fatal accidents.
You should not have to suffer financially when a negligent motorist hits you and causes injury. A Houston auto accident attorney from The West Law Office, PLLC can help you get compensation for all your damages. Call 281-347-3247 or fill out the online form to schedule a free consultation.
Source:
abc13.com/houston-news-man-killed-in-crash-car-troubles-on-highway-90-fatal/13038060/