Increase in Fatal Auto & Truck Accidents Due to Distracted Driving Following Daylight Savings Time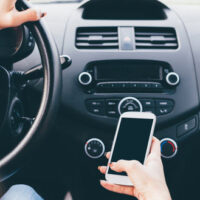 In spite of the fact that there are fewer cars out on the road at the moment due to the coronavirus quarantines, distracted driving is still a serious issue in terms of auto accidents. According to the National Highway Traffic Safety Administration, almost 3,000 lives were claimed due to distracted driving alone in 2018, and those killed included many drivers, passengers, bicyclists, and pedestrians.
April is usually National Distracted Driving Awareness month, although this year, it has been postponed due to the pandemic. Still, AAA has called for drivers to remain vigilant, as fewer drivers being out on the road due to the pandemic could actually lead to those that are driving to justify paying less attention to driving, leading to even more accidents as a result.
People Using Their Cell Phones Even Though It Is Illegal, Causing Accidents in Texas
This issue also very much hits home here in Texas, where one in five accidents involves driver distraction. While it is not technically illegal to use your phone while driving unless you are driving within the first six months of your learner's permit, are under the age of 18, or are operating a school bus with children present, it is still illegal to use these devices to send messages while operating a car, and this not only includes texting, but also reading and writing emails while driving. Still, according to a survey conducted in 2019 by the AAA Foundation for Traffic Safety, 52 percent of respondents reported talking on the phone, 41 percent reported reading emails or texts, and 32 percent reported composing emails and/or texts; all while driving.
Texas Especially Affected by Fatal Drowsy Driving Accidents After Daylight Savings Time Change
This is not the only alarming study recently released regarding car accidents due to distracted driving: New research indicates that fatal car crashes increase by approximately six percent (or 28 deaths) each year immediately following daylight savings time changes, likely due to increased sleep deprivation, known as a "mini jet lag," caused by the one-hour loss that leaves people more drowsy and distracted behind the wheel for up to two weeks after the change. In fact, according to experts, drowsy driving is just as bad as drunk driving in terms of making it difficult for people to pay attention to the road and assess hazards, and the further west you live, the greater the risk of a crash; meaning that those in the western edge of their time zone (i.e. Amarillo, Texas) actually had an eight, not six percent increase in fatal crashes. As a result, some states are even considering making permanent changes and getting rid of the need to adjust our clocks twice per year.
Drowsy Driving Truck Accidents Increase Due to More & More Trucks Moving Pandemic Supplies
The issue is even more serious when one or more of the cars involved in an accident is a truck. Truck accidents are on the rise, not only because truck drivers are especially tired, but also because more and more truck drivers are needed on the road now to haul essential supplies during the pandemic.
If You Have Been in Auto or Truck Accident in Texas, Contact Our Houston Injury Attorneys
If you have been injured in an auto accident in Texas, contact Houston auto accident attorney Sue E. West immediately for assistance.
Resources:
niagara-gazette.com/opinion/guest-view-distracted-driving-awareness-on-hold-but-message-still-timely/article_b0df5f2f-b5b8-52b5-b167-23f3a9f13420.html
southfloridareporter.com/why-are-truck-accidents-on-the-rise/
healthline.com/health-news/daylight-saving-can-make-driving-less-safe
houstonpersonalinjury.law/houston-auto-accident-attorney/
https://www.houstonpersonalinjury.law/tesla-in-trouble-again-injuries-accidents-due-to-sudden-unintended-acceleration/